Church of God (Seventh Day)
​Tulsa, Oklahoma
A Church in Tulsa where:

Jesus is Lord
God's Word is our direction
The Sabbath is a Delight
People love and care for one another
Worship is a priority
Witnessing to unbelievers is the highest calling

Our Purpose:

To serve God, believers, and the spiritual needs of others, just as Christ served. We are to fulfill Matthew 28:19-20 (The Great Commission) by teaching, equipping, encouraging spiritual growth in all believers (through the Holy Spirit), and baptizing disciples.

Saturday Services
Bible classes 9:45am
Worship/Preaching 10:45am

​Activities:

​

Live Streaming

our service each Saturday

NOW starting 11:00 AM

.

General Service activities

1st Saturday

​Children's Church returns!!! (coming in April!)

2nd Saturday

Witnessing at a local park ~2pm (weather dependent)

Special Prayer Meeting 6:30PM

3rd Saturday

Fellowship Lunch after services

Tulsa Nursing Home Singing & ministry 2:30PM

FREE Movie night or other activities 7:00PM

4th Saturday

Kid's focused mini-sermon
Witnessing at a local park ~2pm (weather dependent)
Our location:
13902 E 11th Street, Tulsa OK 74108 (between 129th E Ave and 145th E Ave)
---
Did you come to this site from seeing the "
Need a Break??
" message? We are glad you came! Most of us can identify with these two people. But we don't have to live life that way! A good place to start is with this
article
on our companion GoodNewsTimes.org website.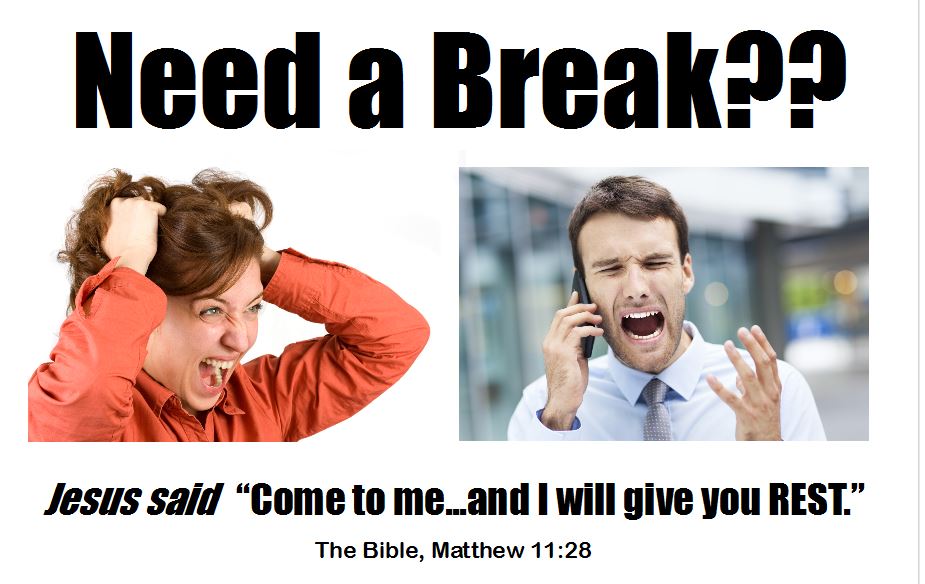 Art work for Need a Break purchased from DepositPhotos.com