Saturday ServicesBible classes 9:45am
Worship/Preaching 10:45amLive Streaming

our service each Saturday

NOW starting 11:00 AM

.​

We have home groups meeting across the metro area. Each group takes on its own personality and style while seeking to be engaging, casual, and edifying. Contact us for exact addresses of the group you would like to attend.

Tulsa near 71st and Garnett- Tuesdays @ 6pm
Claremore/Verdigris--2nd & 4th Tuesdays @ 6:30pm
Bixby Wednesdays @ 6:30pm
Tulsa near Admiral Twin Drive Inn- Wednesdays at 5:00pm

A Church in Tulsa where:

Jesus is Lord
God's Word is our direction
The Sabbath is a Delight
People love and care for one another
Worship is a priority
Witnessing to unbelievers is the highest calling

Our Purpose:

To serve God, believers, and the spiritual needs of others, just as Christ served. We are to fulfill Matthew 28:19-20 (The Great Commission) by teaching, equipping, encouraging spiritual growth in all believers (through the Holy Spirit), and baptizing disciples.

​Activities:

​

Monthly Activities:

1st Saturdays

​Children's Church (ages 4-12)

2nd Saturdays

Witnessing at a local park ~2pm (weather dependent)

​​

3rd Saturdays

Fellowship Lunch after services

Tulsa Nursing Home Singing & Ministry 2:30PM

4th Saturdays

Mini-sermon for Children
Witnessing at a local park ~2pm (weather dependent)
Our location:
13902 E 11th Street, Tulsa OK 74108 (between 129th E Ave and 145th E Ave)
---
Did you come to this site from seeing the "
Need a Break??
" message? We are glad you came! Most of us can identify with these two people. But we don't have to live life that way! A good place to start is with this
article
on our companion GoodNewsTimes.org website.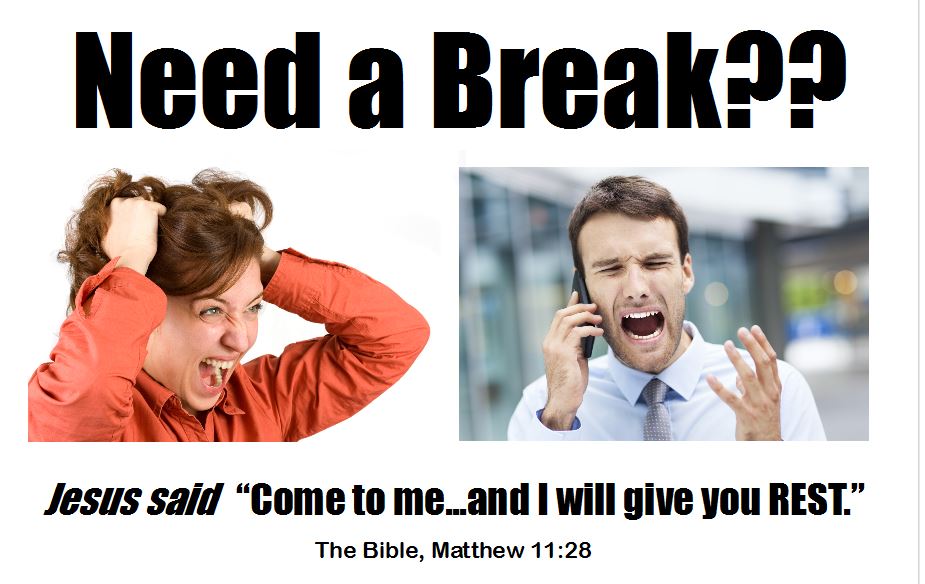 Art work for Need a Break purchased from DepositPhotos.com